Looking for the best domain registrars to purchase your website's domain name?
Doesn't matter if you're in the biz for a long time or a small business just starting out, for example an online store, we've got you covered.
Just so everyone is on the same page – domain registrars offer domain names for sell.
In this article, we look at 7 of the most popular registrars:
…and tell you how each one measures up in terms of price, ease of use, and customer support.
Seven best domain registrars in 2022
Domain.com offers a variety of service, but their primary focus is selling domains.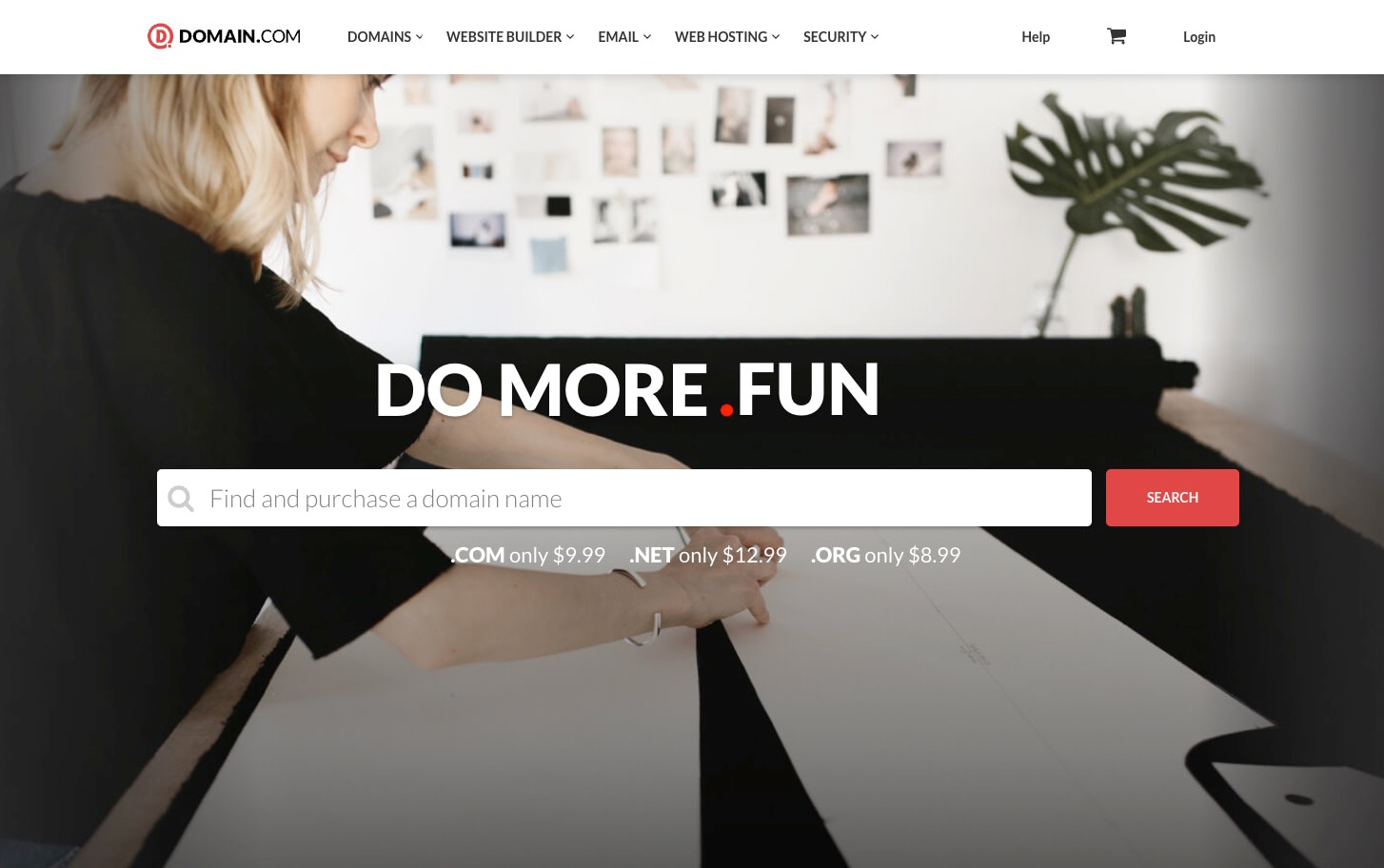 Domain.com Pricing
.com – $9.99
.co – $6.99
.net – $12.99
When you make any purchase on Domain.com via our link, you get a 25% exclusive discount and we receive a small commission in exchange.
Ease of use
The Domain.com checkout process is relatively simple but does feature an obnoxious number of upsells. They also have the base time for a domain purchase set at two years, so you'll need to adjust it manually if you want to purchase a domain name for only one year.
Additional services
Domain.com offers web hosting services, including their own custom Website Builder. However, these services are not recommended. If you go through Domain.com for your domain, we strongly recommend looking elsewhere for web hosting.
Customer support
According to the reviews, Domain.com customer service is slow to respond when they do respond at all. These reviews are based on the hosting products, but provide good insight into how customer support will work with you if you buy a new domain from this source.
2. Bluehost (bluehost.com)
Bluehost is more focused on selling hosting plans than domain names. Their name says it all – they're chiefly a hosting provider.
Also, they often appear on lists of best web hosting providers. This makes them one of the top domain registrars if you want a solution where you can have your hosting and domain name all in one spot.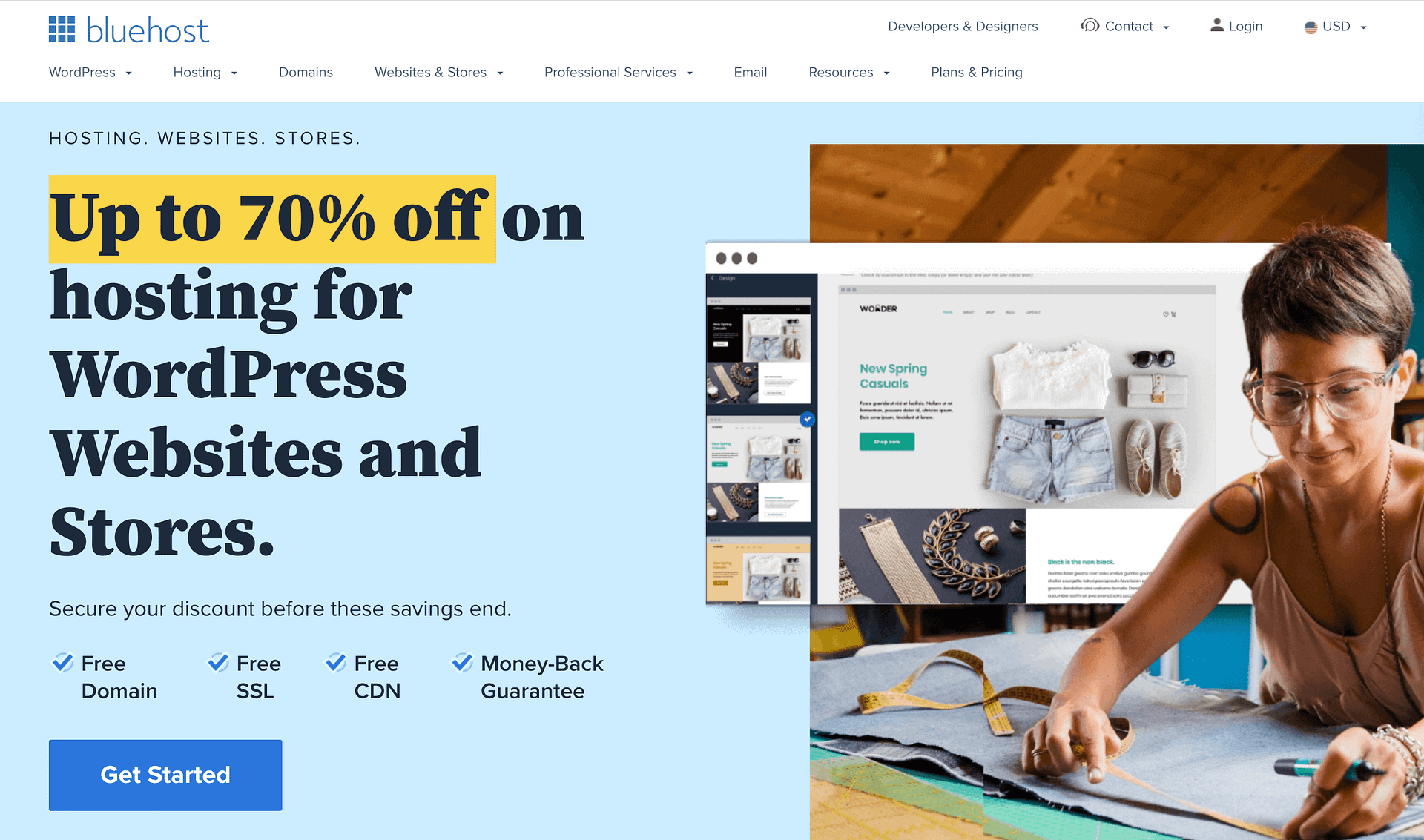 Bluehost pricing
The prices are industry standard. However, what makes this a great deal is the fact that you get a free domain name for the first year with even the cheapest hosting package (which starts at $2.75/month upfront).
When you're ready to sign up for a web hosting account, make sure you use one of the Bluehost promo links on this page. Going through them will result in two things: (1) they are affiliate links, which means that we receive a small commission if you buy through them, (2) it will unlock a $2.75 vs $3.95 discounted price for you. You won't get this discount if you visit the Bluehost site in any other way.
Ease of use
It's easy to purchase your first domain name on Bluehost. We like their easy-to-use, beginner friendly interface, and the fact that they aren't aggressive with their upsells.
Additional services that Bluehost offers
Web hosting (they even have a discounted plan for WordPress users – this comes with a free domain and a free SSL certificate thrown in)
Marketing and website design services
Auto-renewal, which ensures that your domain name won't expire
Read our Bluehost review for more on their hosting offerings.
Customer support
While Bluehost isn't the worst when it comes to customer service, there are quite a few complaints floating around online. In our WordPress hosting survey, they scored a 3.2 out of 5, which was near the bottom of the most popular hosts.
Again, this support score is for hosting specifically (not domain registration), but it does give you a good idea of what type of support you can expect.
3. Namecheap (www.namecheap.com)
Namecheap is fully ICANN-accredited and has grown to become one of the most trusted names in the industry. And, Namecheap is also one of the best domain registrars when it comes to balancing price and support.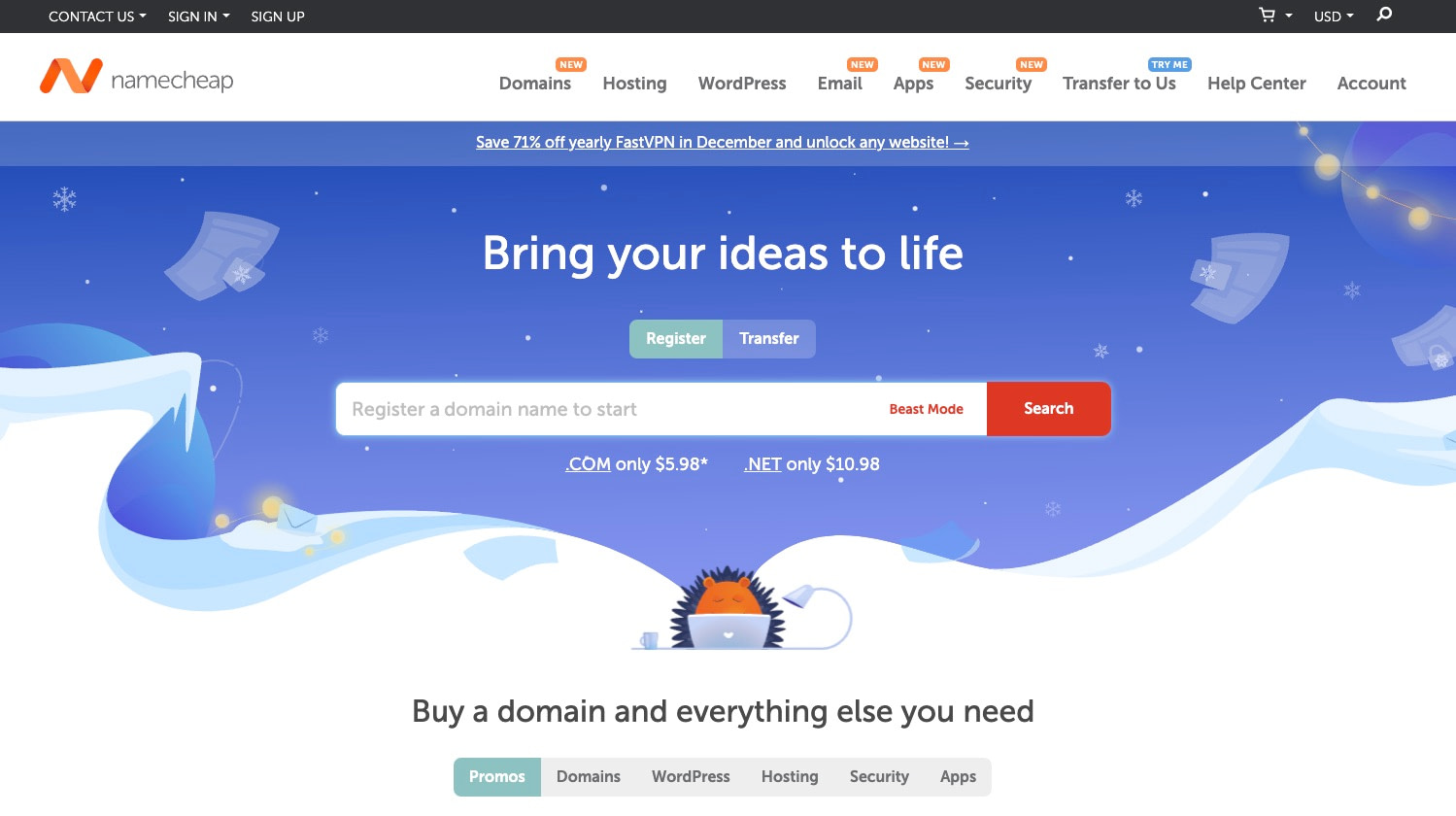 Namecheap pricing
The prices for Namecheap's domain name extensions (TLDs) are:
.com – $12.98 (currently on sale at $8.88)
.net – $12.98
.co – $25.98 (currently on sale at $6.48)
If you register a .com domain with Namecheap, they'll also throw in domain privacy – whois privacy protection for free. A lot of people don't like publicly exposing their contact information, so this is a nice bonus.
Ease of use
Buying a new domain name on Namecheap is easy-peasy. First, they have a really good domain search tool.
The checkout process is simple and straightforward, and unlike GoDaddy, they don't try and jam in as many upsells as possible.
Namecheap's domain management panel is also simple and intuitive, so they get extra brownie points there.
Additional services that Namecheap offers
Namecheap also offers:
Web hosting. Namecheap offers 1-click installation for WordPress with most of their hosting plans. They also offer managed WordPress hosting
VPN Services to help you retain your privacy
Namecheap makes available a variety of website apps, including site builders, SEO and ecommerce tools, and many more
Customer support
First things first: Namecheap only offers 24/7 live chat, so you can't call in using a phone number provided on their website.
Most folks say that the live chat function is easy to use, and they get their inquiries answered in less than a day.
Namecheap also has a Status Updates blog where they keep all their customers in the loop about their scheduled maintenance and other issues.
4. Hover (www.hover.com)
Hover is a relatively new domain seller that bills themselves as the place "Where the internet's best ideas get named". That claim is somewhat subjective, but the appeal of Hover can't be denied: they are a simple company that does one thing – selling domains and associated email accounts, really well.
Hover pricing
.com – $12.99
.org – $13.99
.net – $15.49
Ease of Use
Hover is a company devoted to simplicity, and it shows in their checkout process. There are no upsells whatsoever during the purchase process, and they accept a myriad of payment methods including a variety of credit cards, PayPal, and Apple Pay.
Additional services
Hover does provide email addresses with their domains, which is great if you need professional email for your business, but offers no other services at this time.
Customer support
Hover allows customers to reach out to them via phone, email, and offers live chat support. However, their customer service representatives are only available from 8AM-8PM Monday-Friday and 12-5PM Saturday and Sunday (all times are EST). This may be an issue if you live in a different time zone.
5. GoDaddy (www.godaddy.com)
GoDaddy is one of the largest ICANN-accredited domain registrars, and it's pretty much a household name.

But is it a good fit for you? Let's find out!
GoDaddy domain pricing
The prices for GoDaddy are:
.com – $17.99
.net – $19.99
.co – $34.99
Ease of use
We're not big fans of the checkout process at GoDaddy…
Namely because there are so. Many. Upsells.
Seriously, though – you'll get bombarded with upsells at every turn, and it gets really frustrating.
Additional services that GoDaddy offers
GoDaddy also offers these services:
Bulk domain name purchasing.
Purchasing domain names that are already taken (or attempting to, at least), which may come in handy when you're willing to pay for a popular domain or a top level domain name.
GoDaddy also has a directory of premium domains.
Web hosting. If you're getting hosting from GoDaddy, they provide 1-click installation for WordPress. You won't need to go through the hassle of installing WordPress manually!
Customer support
While GoDaddy prides themselves on being the "World's #1 ICANN-accredited Domain Registrar", many would beg to differ.
They've gotten a lot of terrible reviews based on their customer service. For example, in our WordPress hosting survey, GoDaddy ranked near the bottom in terms of support quality. While that survey did deal specifically with hosting, rather than just domain registration, it is a good indicator of the overall reputation GoDaddy has for customer service.
Like Bluehost, SiteGround is primarily a web host, but they do offer domain name registration services as well.
SiteGround pricing
SiteGround doesn't have the best pricing; their domain names start at $15.95+ per year. As we said, their primary business is hosting, not selling domains!
With that being said, if you're not comfortable working directly with nameservers, the extra money might be worth it for the convenience of having your domain name and hosting in one workspace. SiteGround is one of the best domain registrars that also offers hosting.
Ease of use
SiteGround's website is neatly laid out, and you won't encounter much trouble purchasing a domain. Their domain management panel is intuitive to use as well.
Additional services that SiteGround offers
SiteGround also offers:
Web hosting
Email hosting
Read our SiteGround review for more on their hosting offerings.
Customer support
When it comes to customer support, SiteGround is pretty all-rounded.
Their support channels are available 24/7, and you can contact them via phone or live chat, or submit a ticket. They also have an extensive knowledge base.
In our WordPress hosting survey, SiteGround scored a 4.7 out of 5 for support, which was by far the highest score at its price point. So if support is a big thing for you, that's another mark in SiteGround's favor.
7. OVH (www.ovh.co.uk)
OVH is the #1 domain registrar in Europe. So if you do reside in Europe, this is one of the best domain registrars for you.
OVH pricing
Because OVH is based in the UK, its pricing is in pounds.
All domain names come with a free email address (+ 5GB of storage space), a Whois Obfuscator, a Domain Name System Security Extension (helps with avoiding malware), and DNS management.
Ease of use
It's easy enough to navigate OVH's website and purchase a domain name.
Their domain management panel is also decent – no major problems there. With that being said, the management interfaces and the level of support offered vary by location which is inconvenient for multinational customers.
Additional services that OVH offers
In addition to domain names, OVH also offers:
Web hosting. (There's the option of purchasing an add-on called DNS Anycast, which redirects your visitors to the DNS server that is the closest to them.)
Customer support
We didn't manage to dig up a ton of reviews about OVH, but the ones that we did find talk about how OVH isn't very responsive. Response times can be slow and it may take 24 hours or more to get in touch with someone.
Wrapping it up
If you ask us, the best domain name registrar (by far!) is Namecheap.
They have great customer service and comparatively low prices, and they're an easy choice!
If you want to manage hosting and domain both from one place, we recommend Bluehost.
There are of course other solutions that either specialize in domain name registration or allow you to buy domains in addition to other services. There are HostGator, NameSilo, DreamHost, Google Domains, just to name a few.
Quick tip. Keep in mind that domain renewal prices may vary (usually are higher) than the price for the first year.
And if you need help coming up with a domain name to register, check out our posts on domain name generators, domain extensions, and how to choose a domain name.
Now over to you – have you used any of the best domain registrars featured here? What was your experience? Drop us a comment to let us know!
Free guide
5 Essential Tips to Speed Up
Your WordPress Site
Reduce your loading time by even 50-80%
just by following simple tips.
Download free guide
* This post contains affiliate links, which means that if you click on one of the product links and then purchase the product, we'll receive a small fee. No worries though, you'll still pay the standard amount so there's no cost on your part.